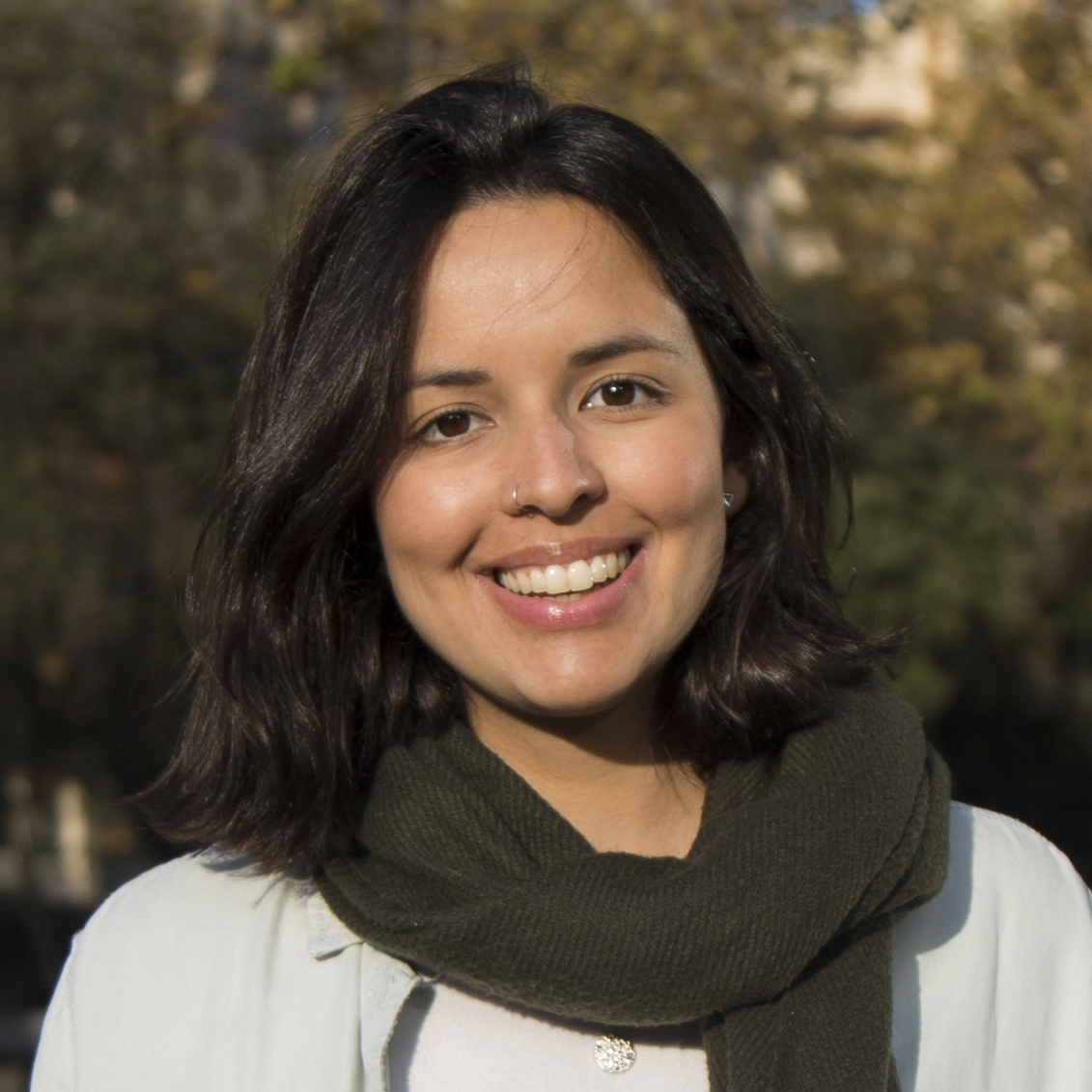 Project scope: 3 weeks
Project type: Personal
My Role: UX research, UI design, Information architecture, Usability test, Prototype
Tools: Sketch, Adobe XD, Miro, paper, pen
Overview:
TripExplorer is an app meant to help travellers and locals share culture and unexplored places. It was designed to serve as a treasure map that helps people find places worth visiting, meet locals, and hear stories shared by locals.
The app creates a collaborative network inviting its users to share their knowledge about the place they live in. Locals can contribute valuable information, and travellers can find the experience they desire.
Note: TripExplorer is a project that was not launched but is based on real user research and actual problems from the target audience.
Challenge
The main challenge was to design a digital solution that could both engage the locals to share their knowledge and present it clearly to the traveller community.
Surveys
To validate hypotheses at this early stage, a survey of 43 people from the target audience was conducted within 5 days using SurveyMonkey.
The first questions were about their habits and the problems faced during their trips. The remaining questions were meant to uncover which problems a possible app would solve. The questionnaire used multiple choice questions as well as open questions with short answers.
74%
Use at least one app to help them during their trips
80%
Would be interested in a collaborative app that helps them find secluded places
68%
Would like an easy way to know the history of a place without hiring a guide
71%
Consider themselves to be travellers on a budget
User interviews
I conducted user interviews to make sure I correctly identified and understood the problems, and to get insights into possible solutions.
The interviews took approximately 15 minutes and included questions to get to the core of what users are trying to do.
Questions:
What is the importance of travelling in your life?

Which is the most annoying problem you usually face on your trips?

Do you usually try to find secret spots out of the touristic areas? How easy is it?

Do you usually use a guide, or do you spend time searching online to help you understand the history of a place?

Would you use a collaborative app that helps you find places suggested by the locals?

Would you like to have more autonomy to understand the history of the places you visit, without needing a guide or spending time searching online? What if these stories were told by local residents?
Findings
After the survey and user interviews were done, I identified the three main pain points of my target audience:
Local places: Travellers do not find places frequented by locals
They complain about not finding the hidden places frequented by local people. They feel uncomfortable in the touristic areas which are known to always be crowded.

Local point of view: Travellers do not find the local's point of view
Most or all of the information found is produced by agencies or other tourists. The point of view of the locals is much harder to find, even though it is the most "authentic" and often the most useful source.

Local interactions: Travellers want to interact with locals
They are looking for authenticity and memorable encounters. They want to create relationships and experience cultural differences.
The decision to build an app came naturally since it would be the best way to connect people in an effective way.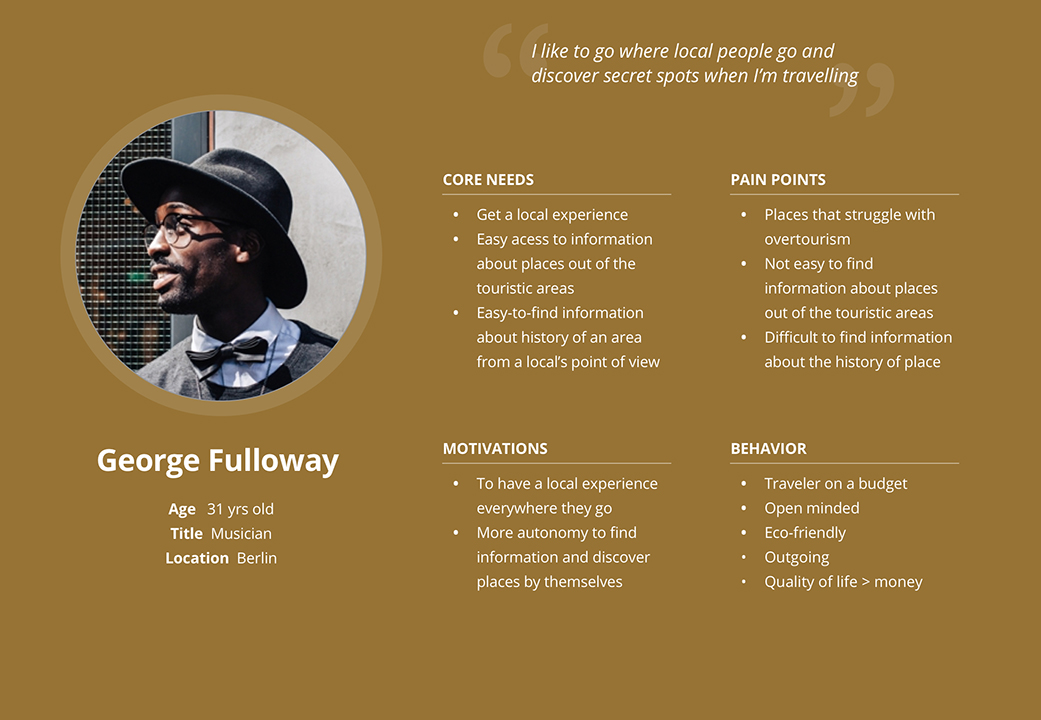 Personas
Having a clear understanding of my target audience, I decided to create a user persona. The user persona helps base the decisions on the user needs during the design process.
User Journey Map
I used a (current state) User Journey Map to visualize the existing experience of the user and identify exactly where the app can add value. The user journey map also often allows us to discover more problems to solve. For this project I used a research-first approach to base the journey map on real data.
Using this visualization, I identified potential solutions to the problems:
A collaborative platform where travellers and local people can share experiences and

The possibility for users to rate the information provided to ensure that good content gets highlighted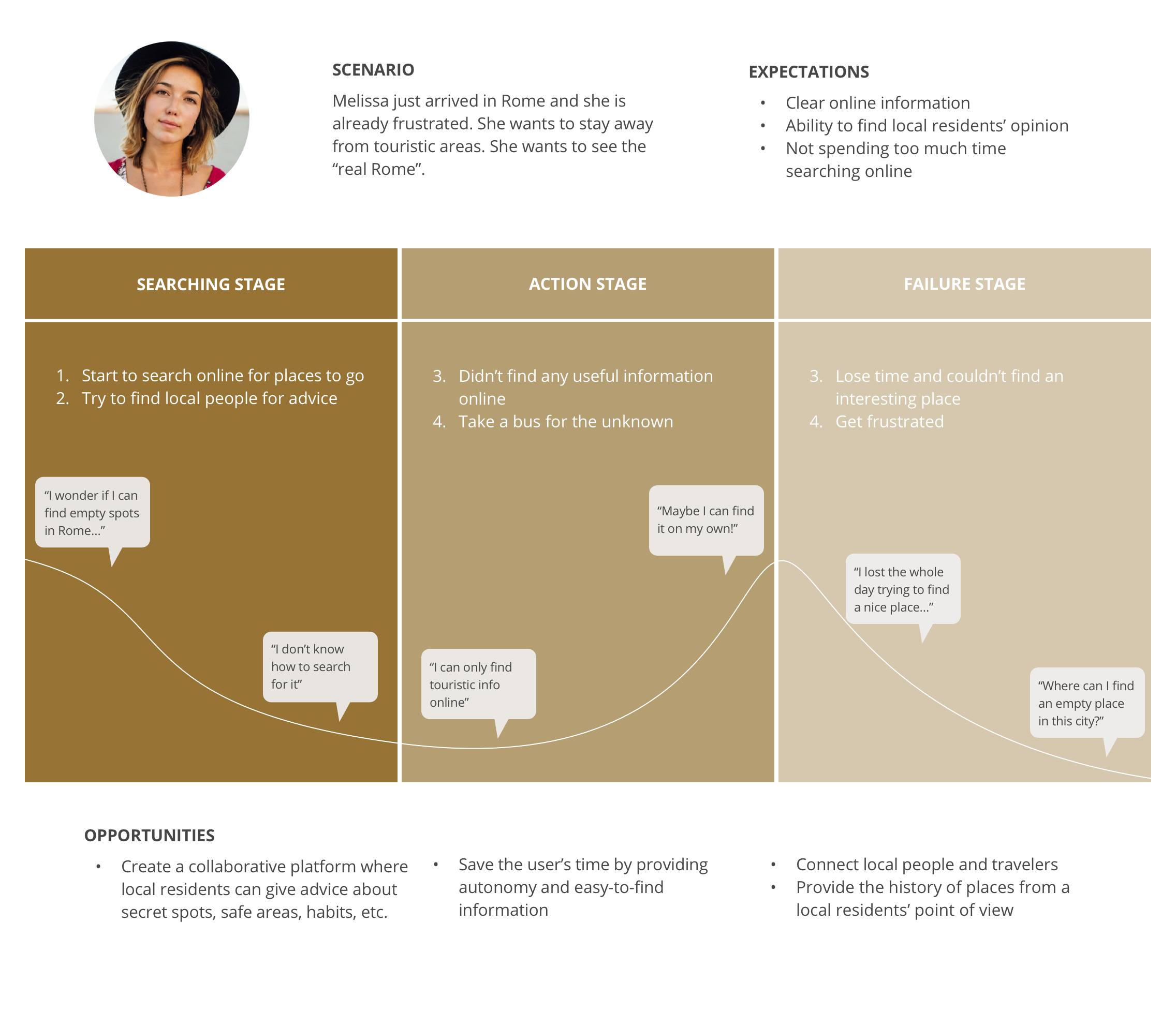 POV & HMW statement
With a clearer view of the user needs, I decided to use a Point Of View (POV) Statement to help me quickly start my ideation process. How Might We (HMW) questions further help me in finding pragmatic solutions.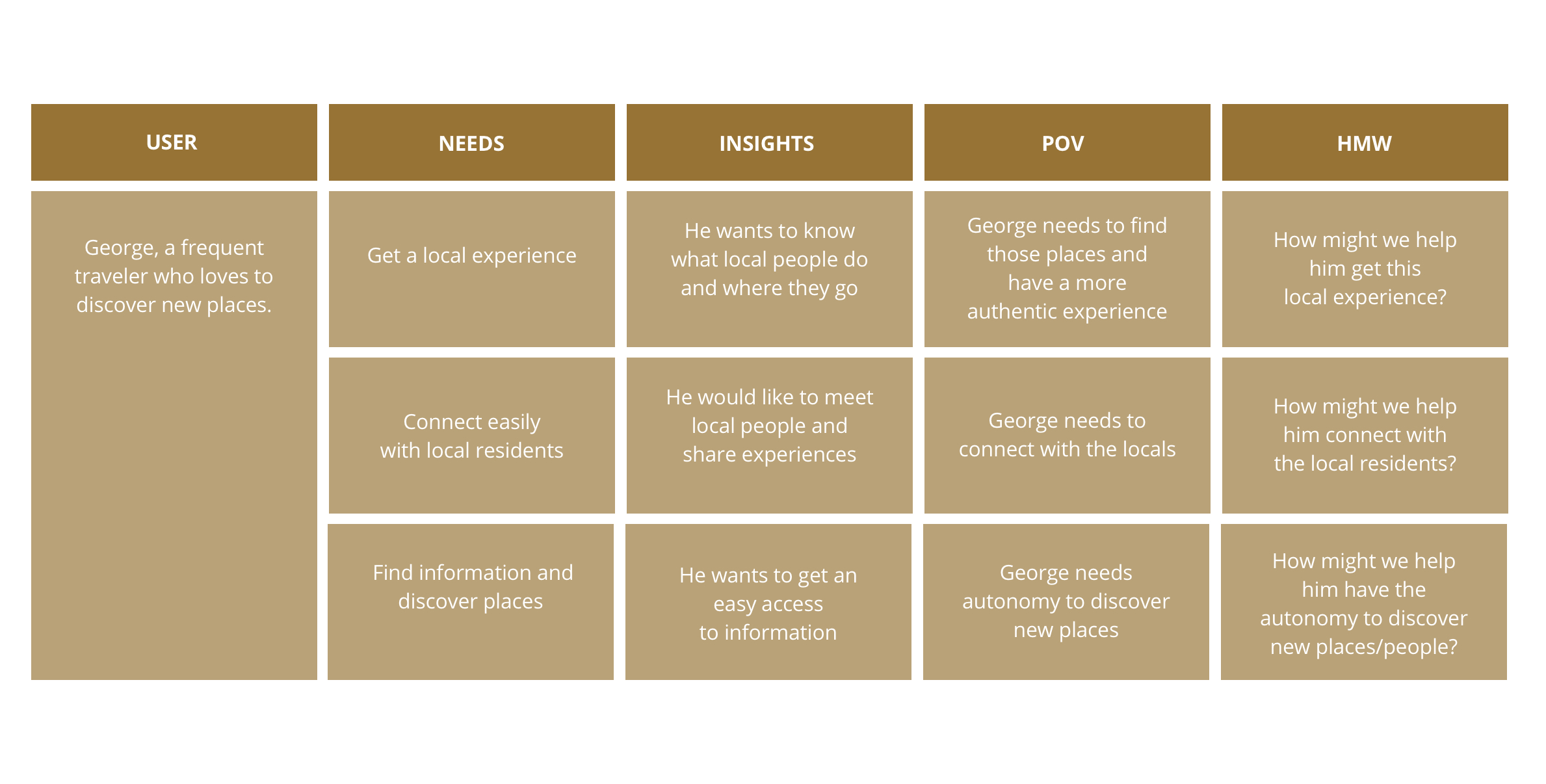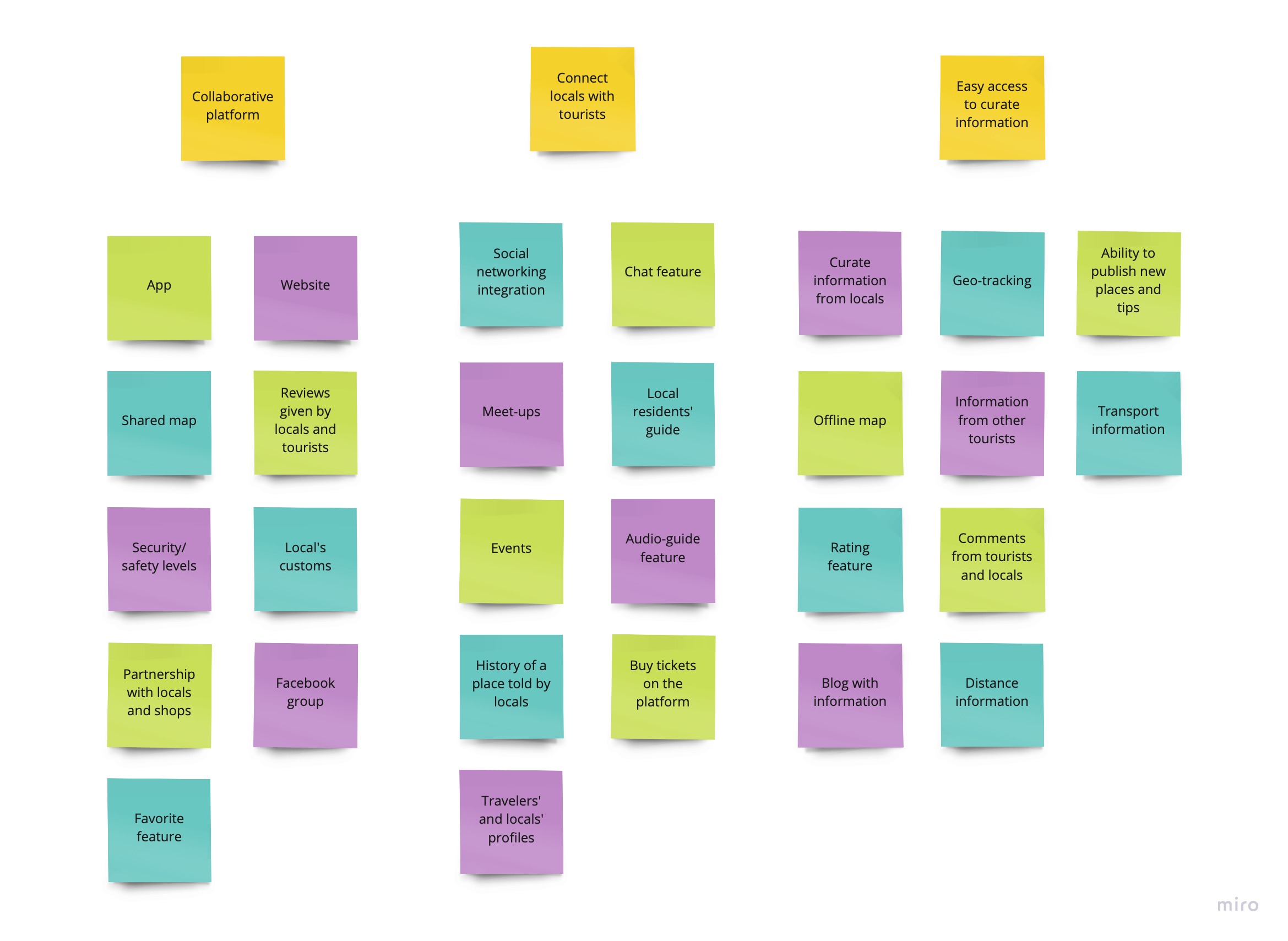 Brainstorm
A brainstorming session helps me generate ideas in a judgement-free environment in order to produce as many ideas as possible to cover every aspect of the problem and help to find potential and original solutions.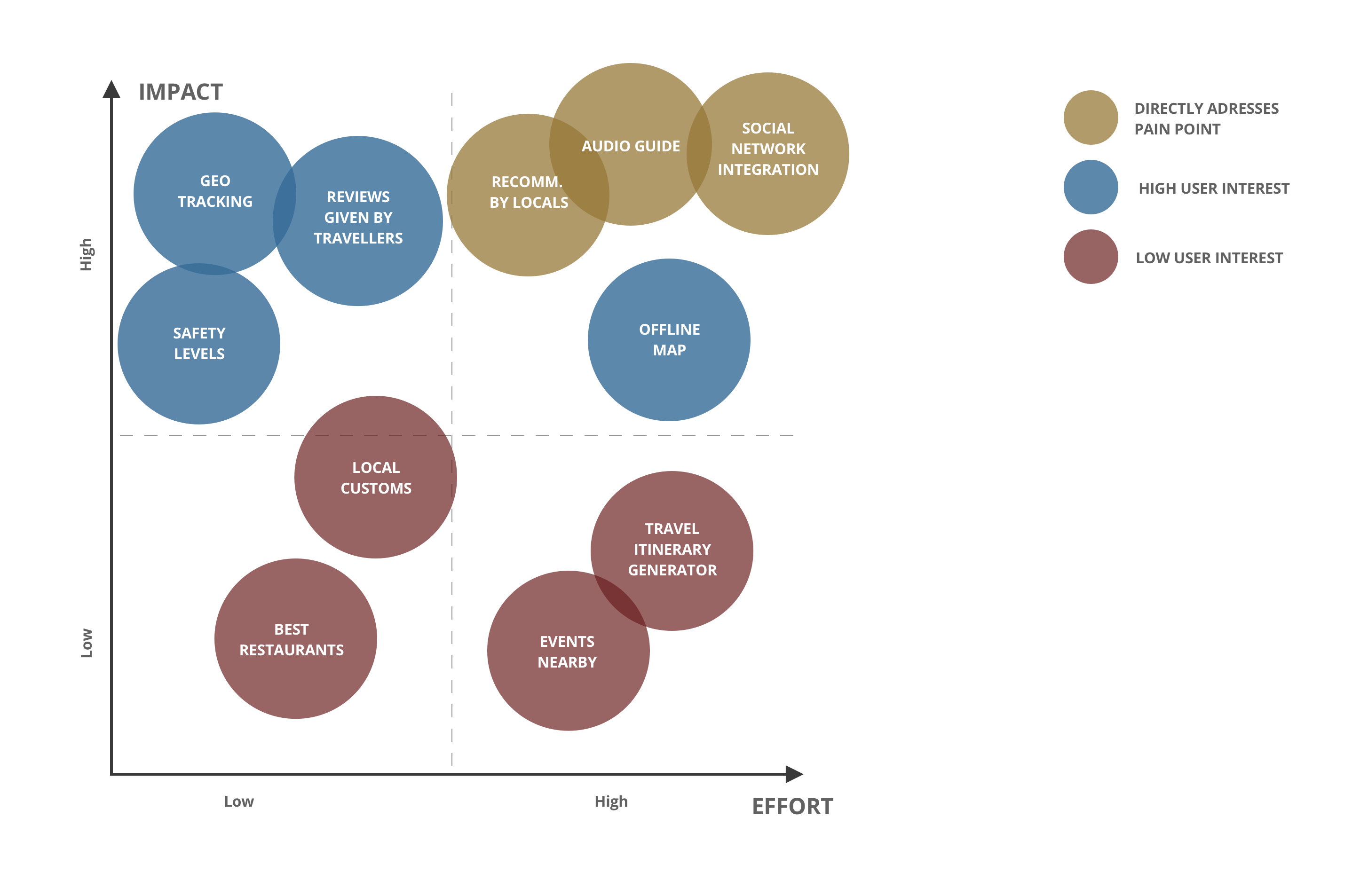 Prioritization Matrix
A Prioritization Matrix helps prioritize features by identifying the problems that have the highest impact and require the least effort to solve.
According to this analysis the features with the best benefit-cost ratio are: an offline map (downloadable), geo-tracking (for location-aware information), and reviews given by locals. On the other hand features such as "events nearby" are low-priority because of their relatively low impact (according to user surveys and interviews).
I had some difficulty estimating the effort required to implement some features. In this phase, it would have been useful to discuss the estimates with a team and/or with a developer.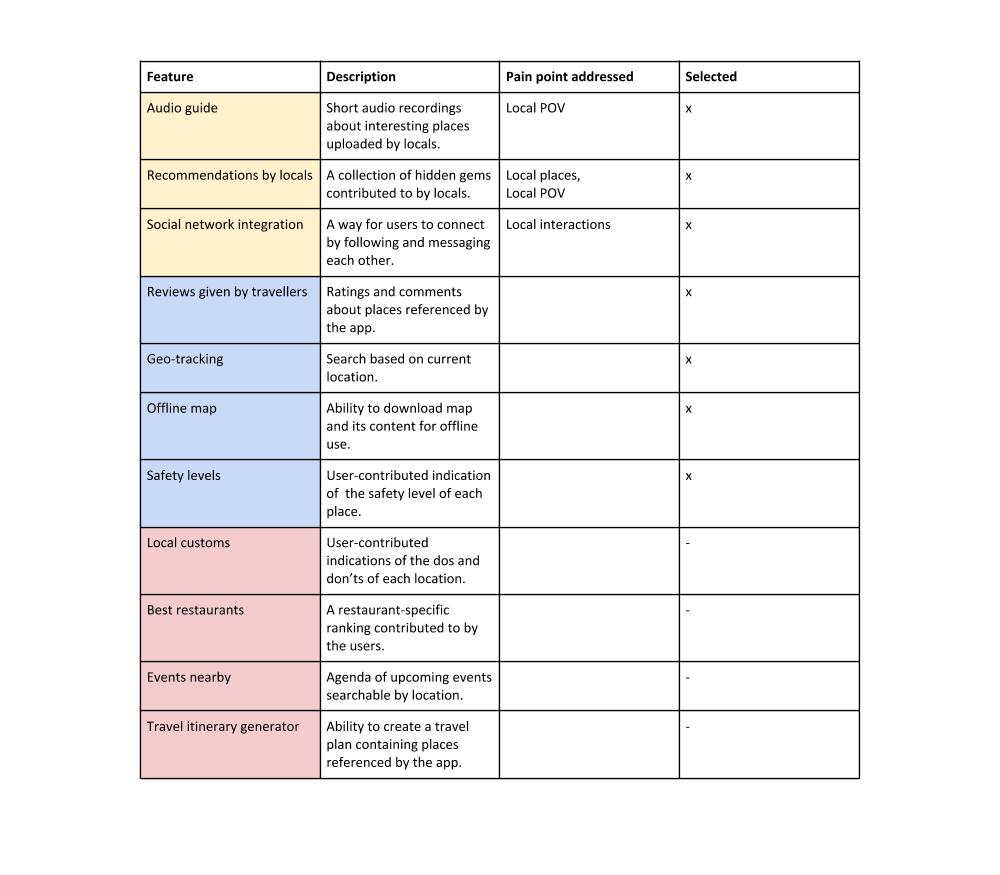 Sitemap
I created a Sitemap diagram to hierarchically structure the content that should be included in the application.
The content of the application is divided into three main parts (which happen to correspond to the three pain points) : "Local spots", "History" and "Community".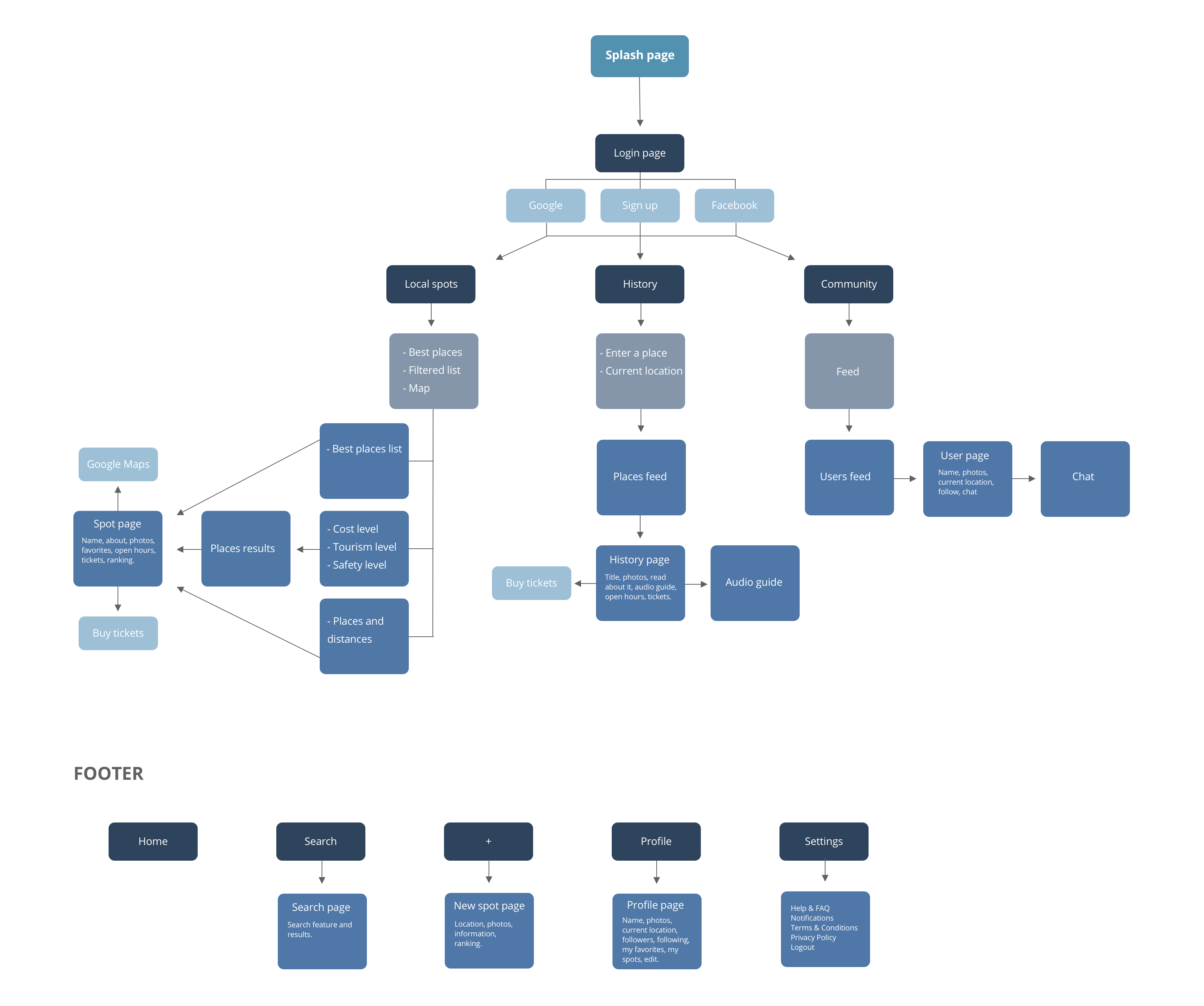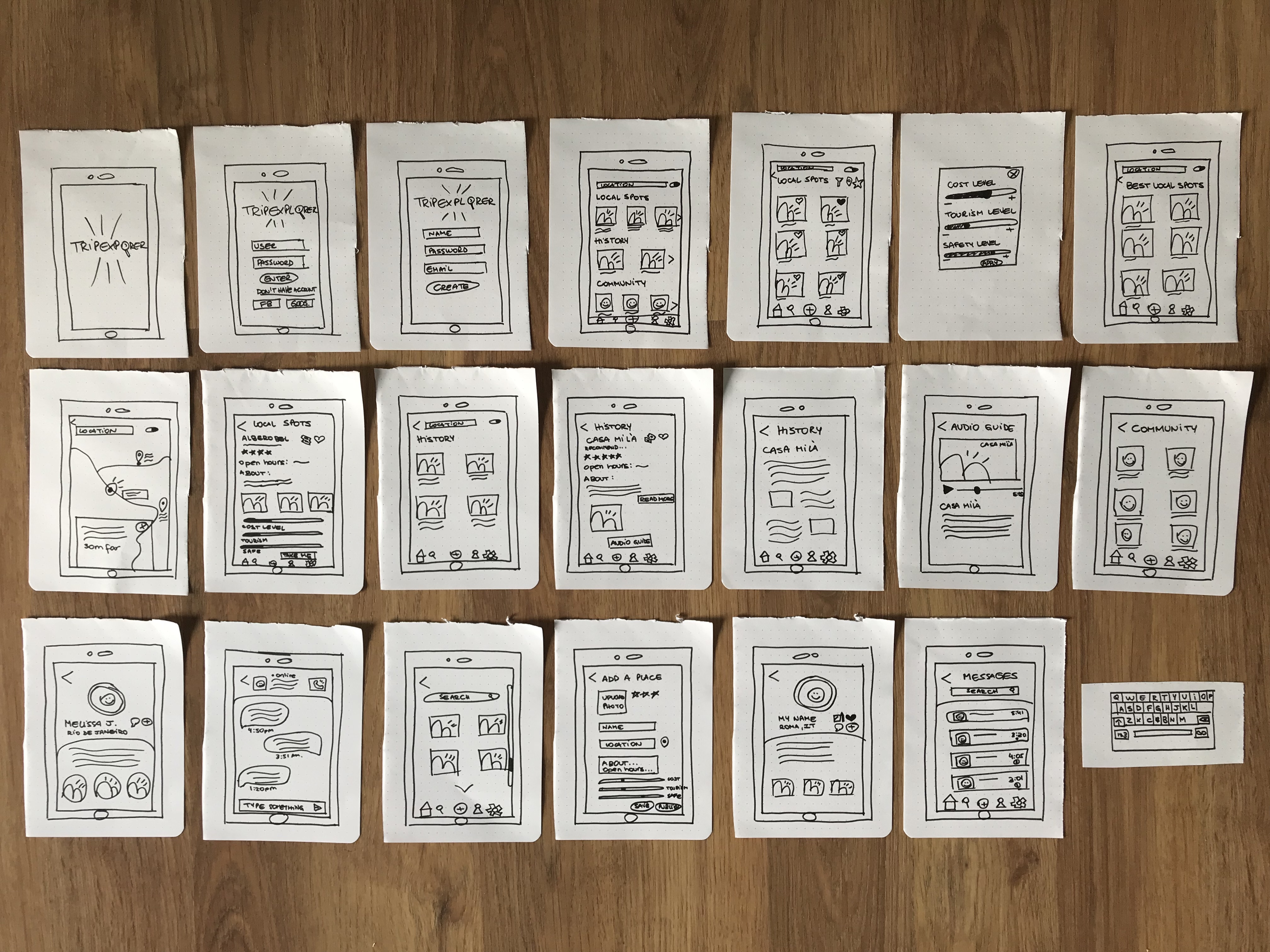 Sketches
Before starting to wireframe the new app, I decided to make some sketches to come up with ideas. I think this method is very useful because it supports fast and flexible exploration.
Wireframes
Wireframes serve to map out the flows and catch usability problems early. I started based on the previous sketches.
I made 25+ screens and right below I displayed the main ones.
*You can interact with the screens by scrolling down to see the full content.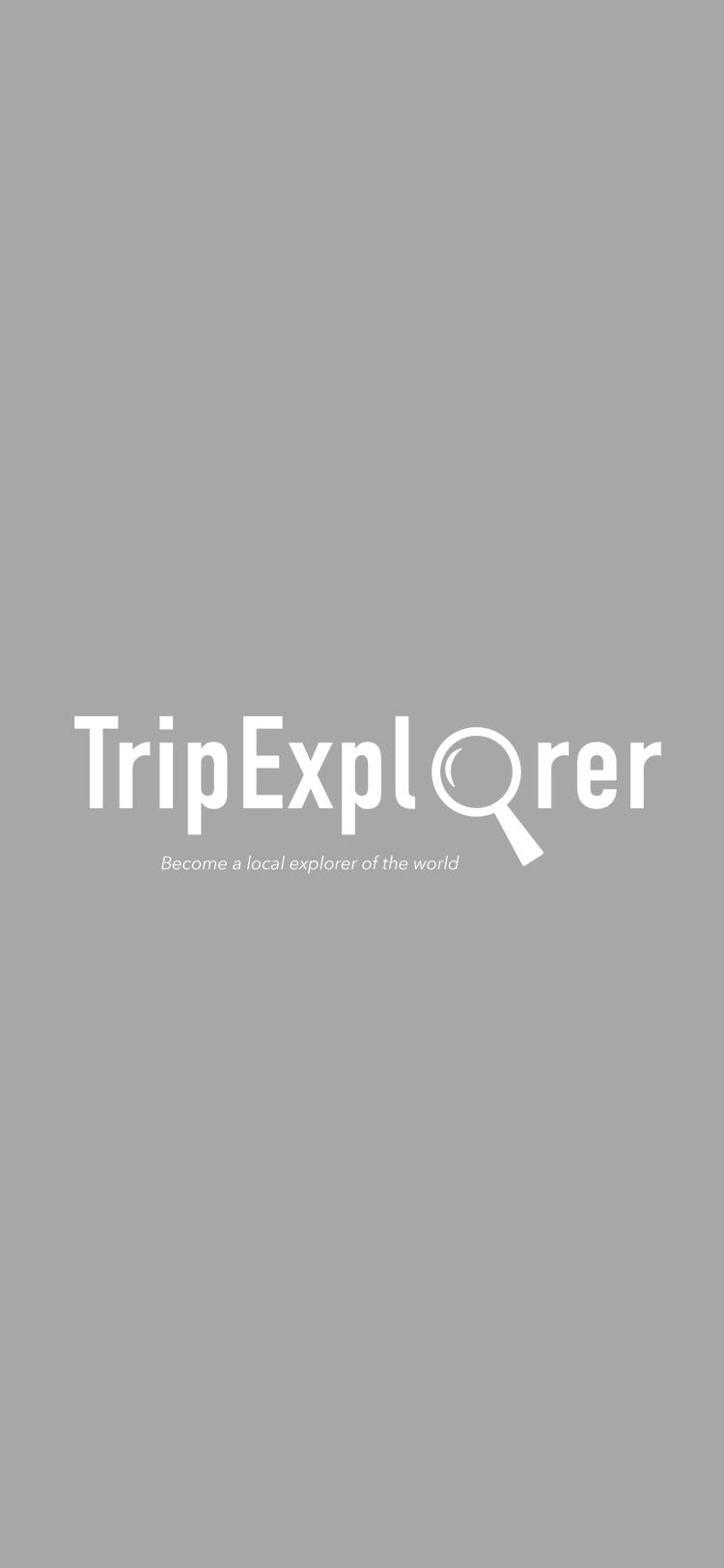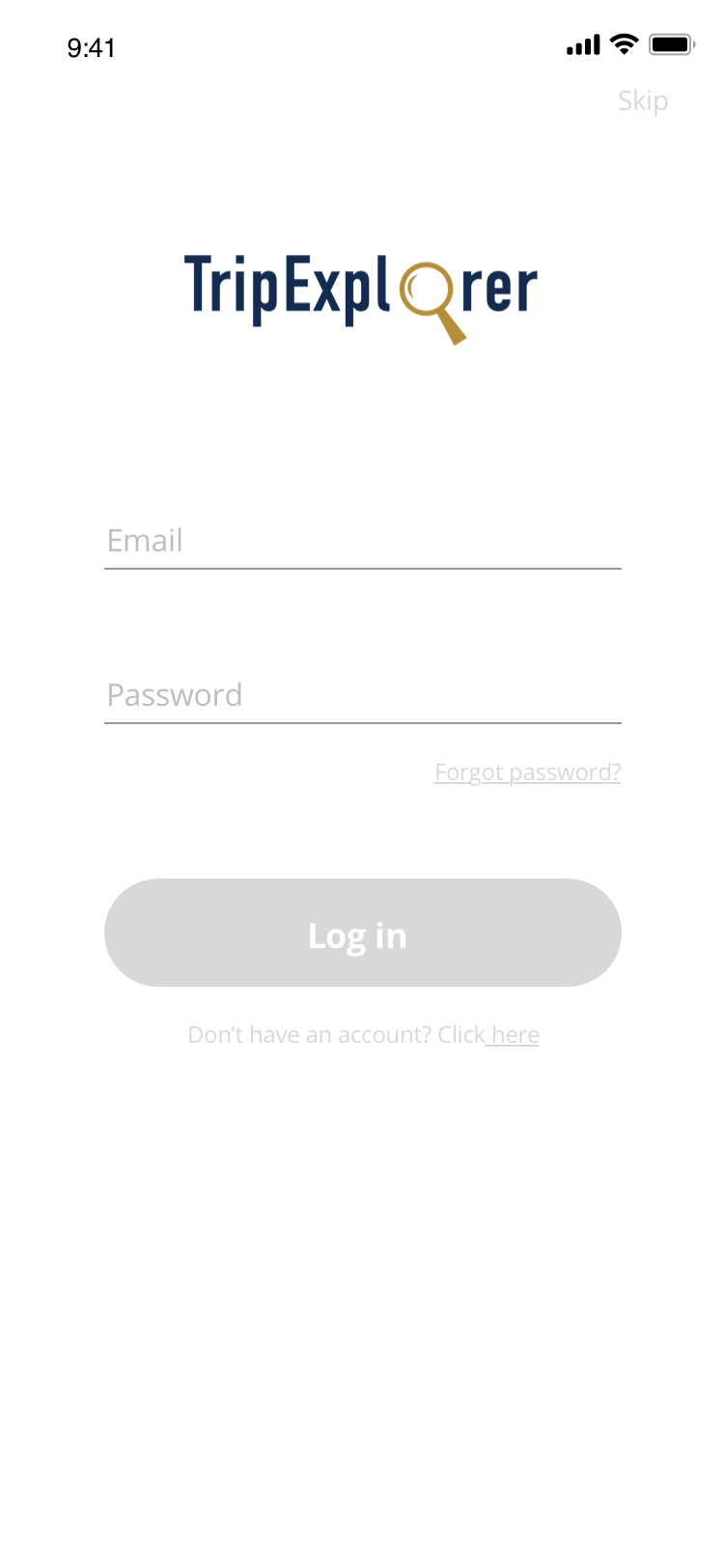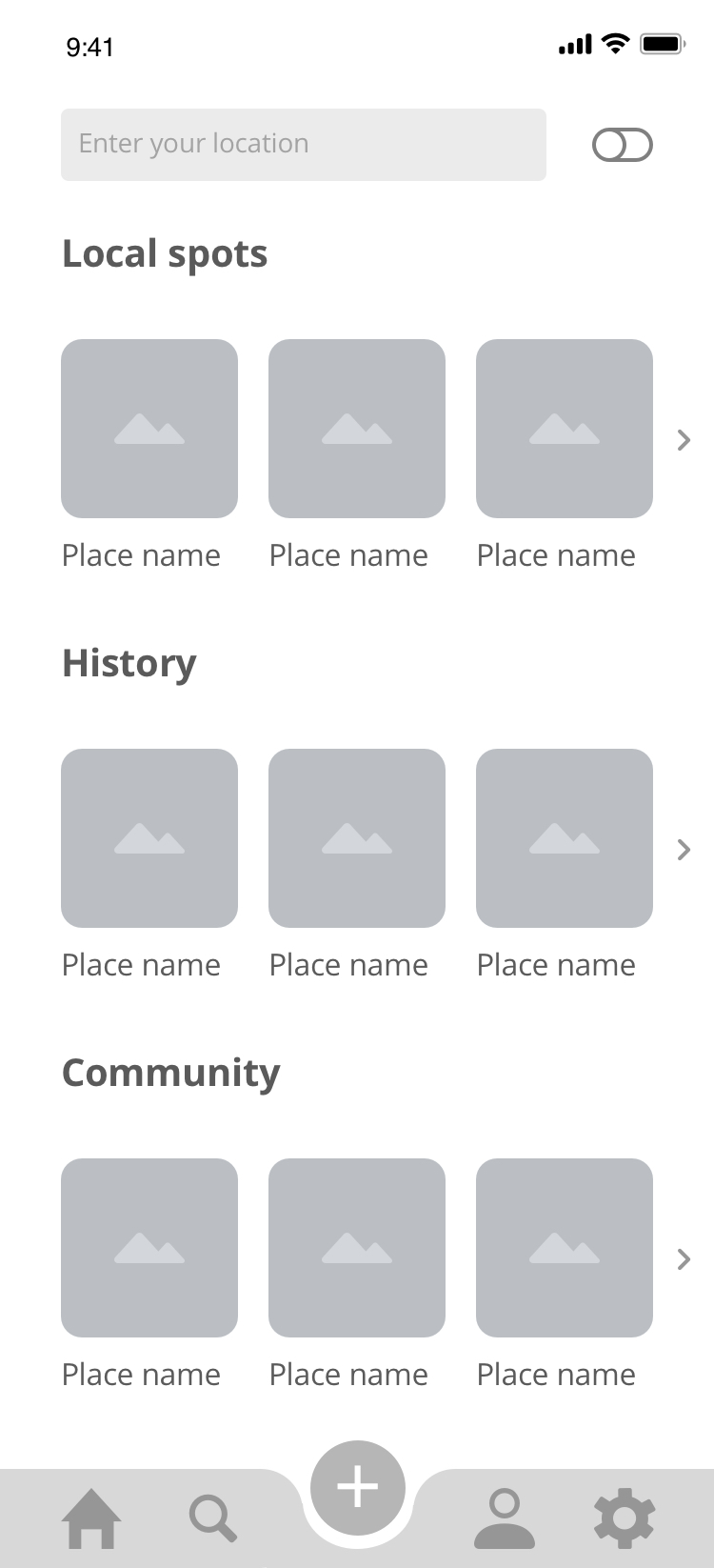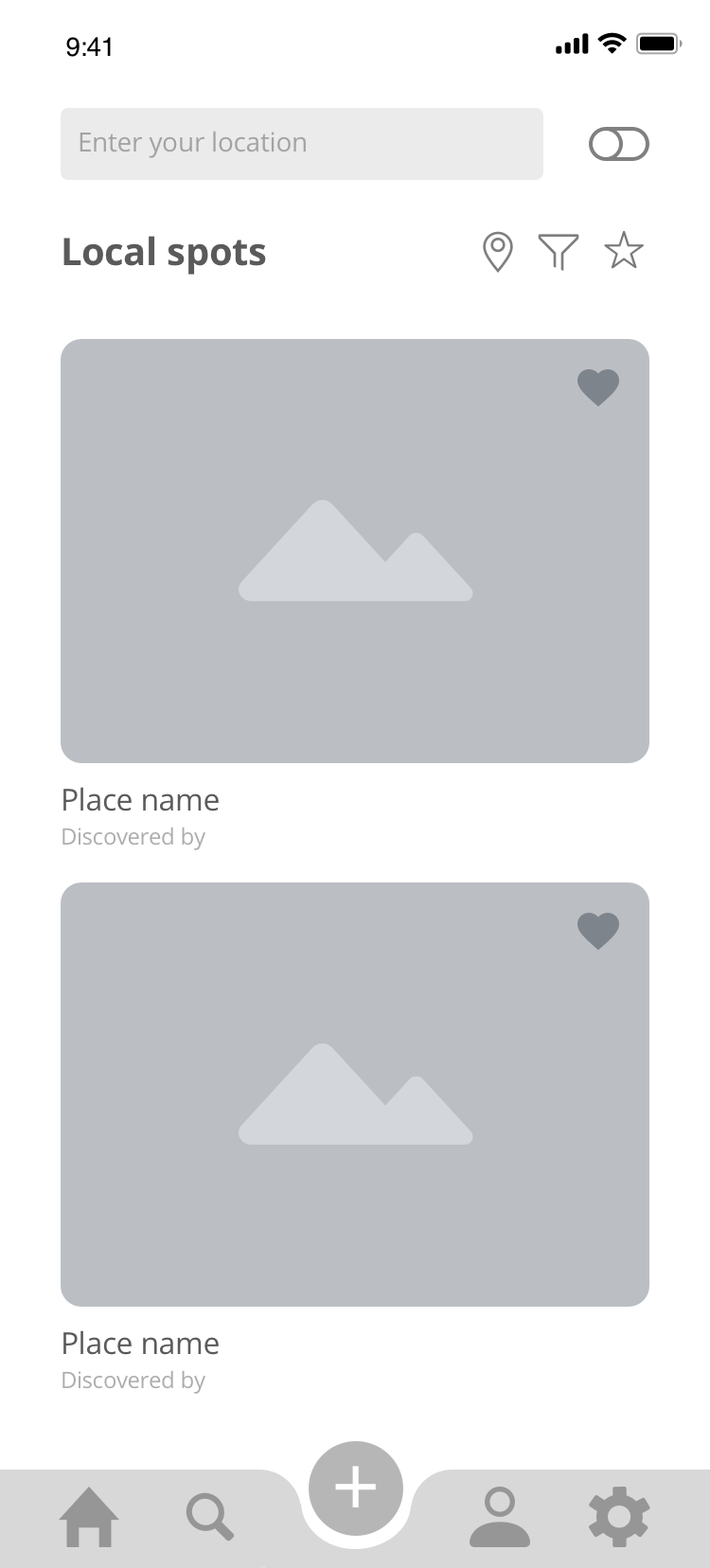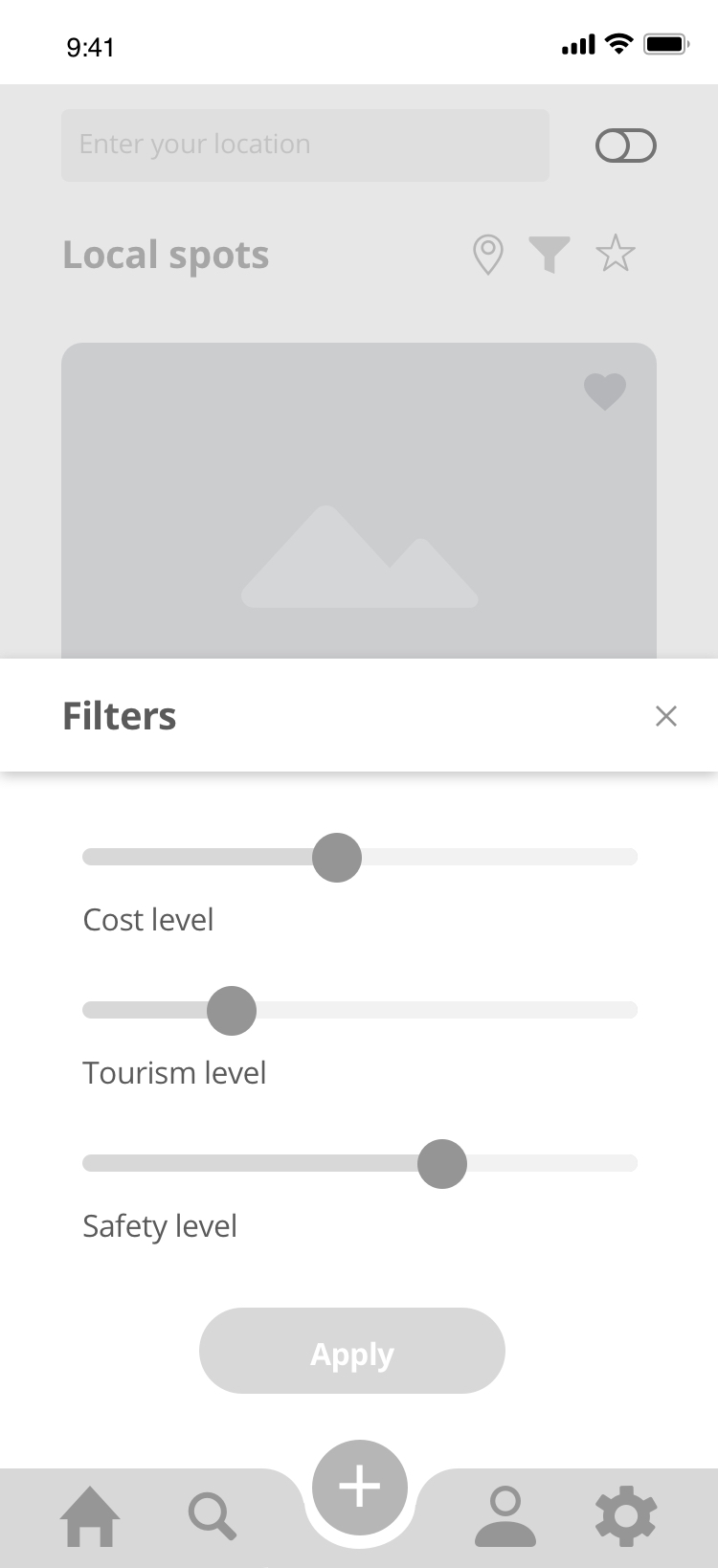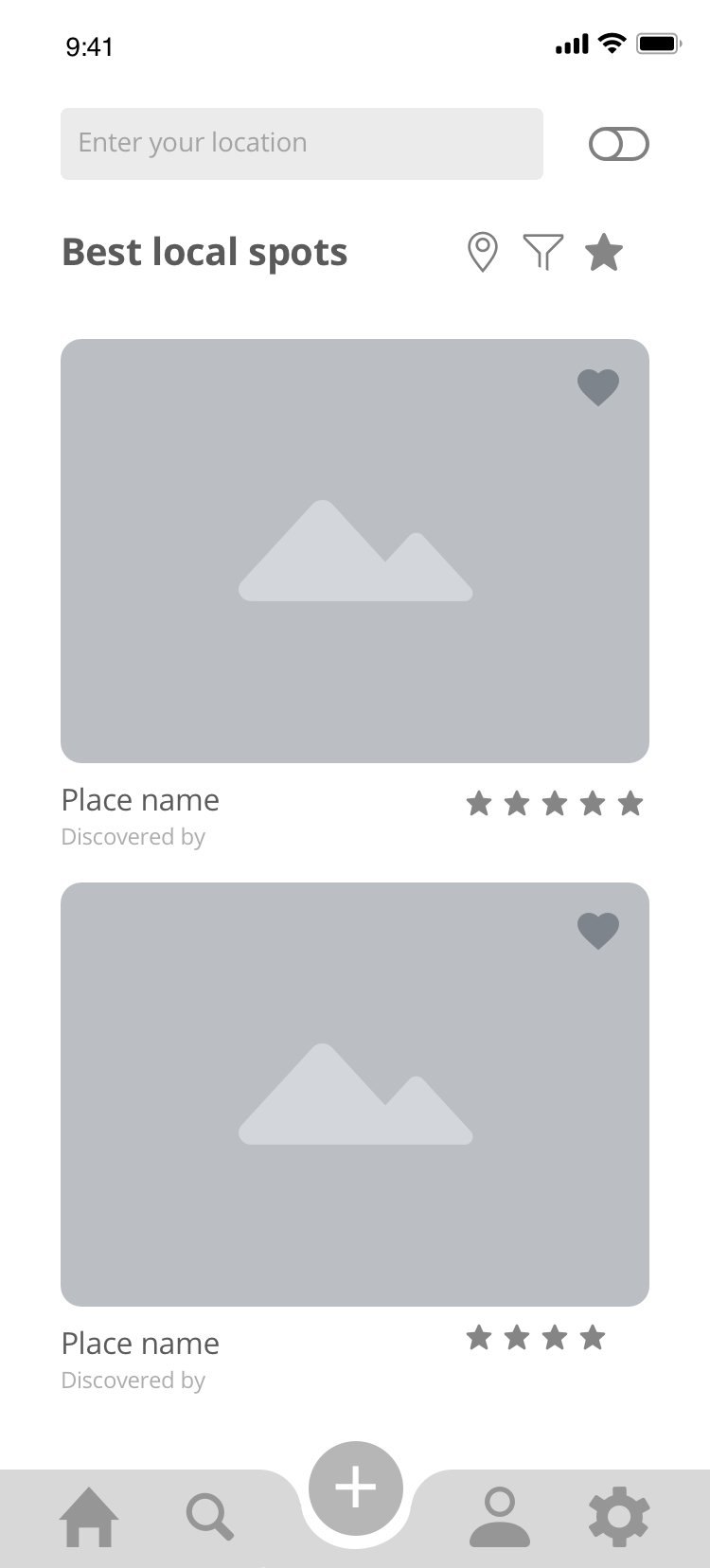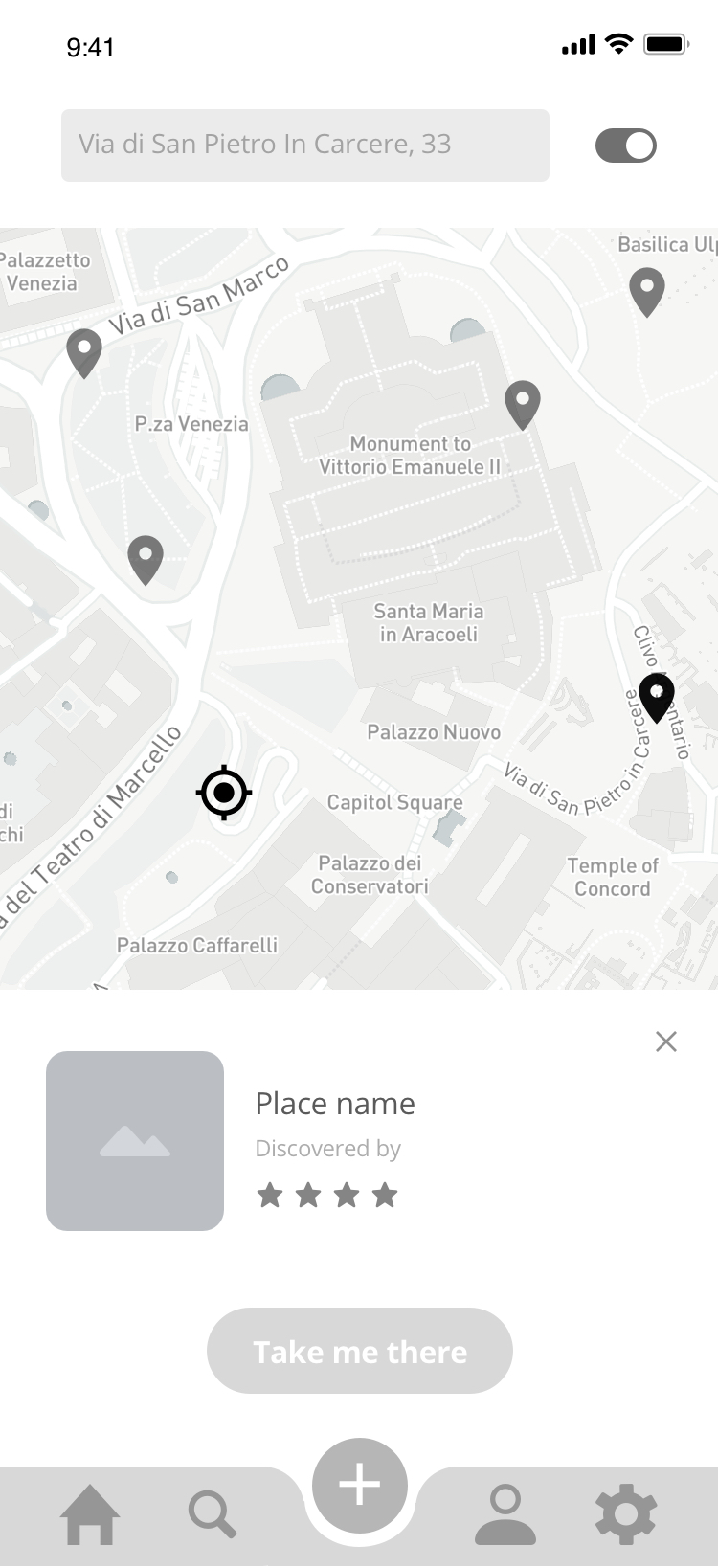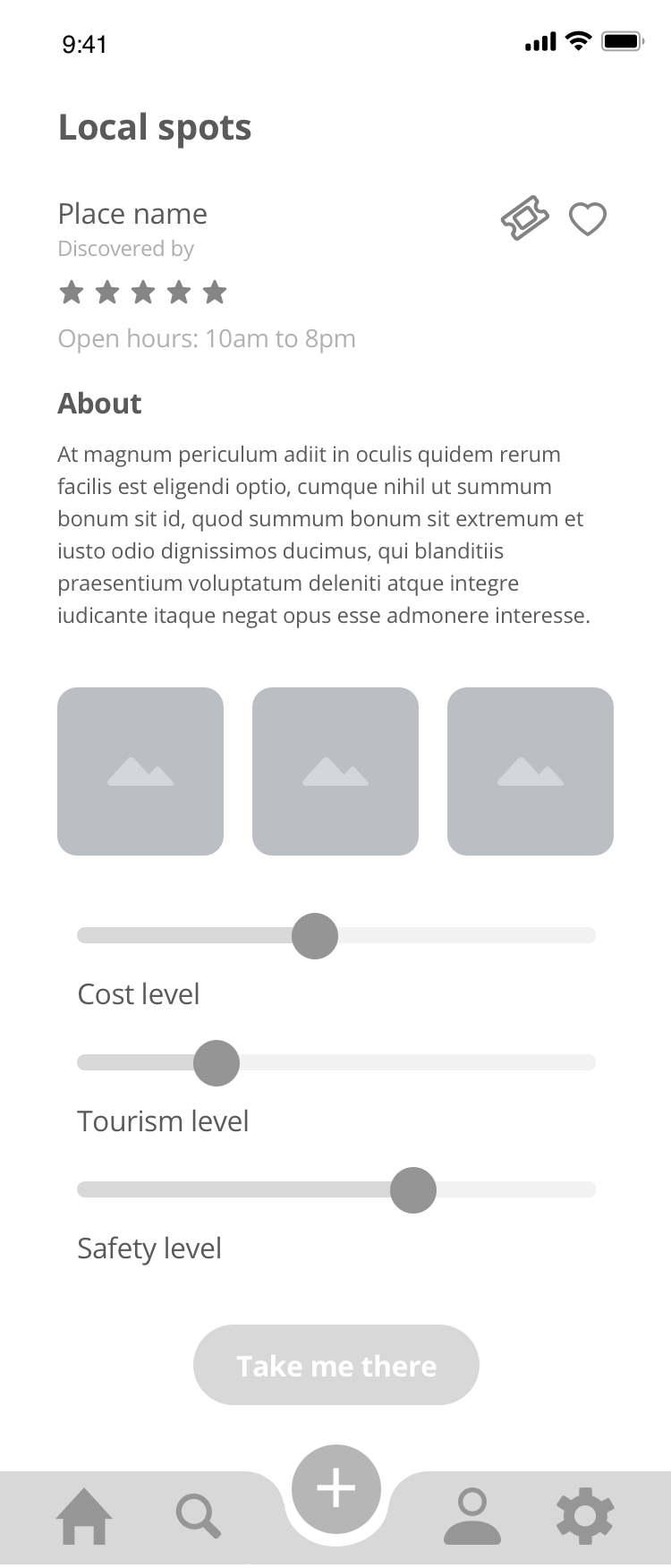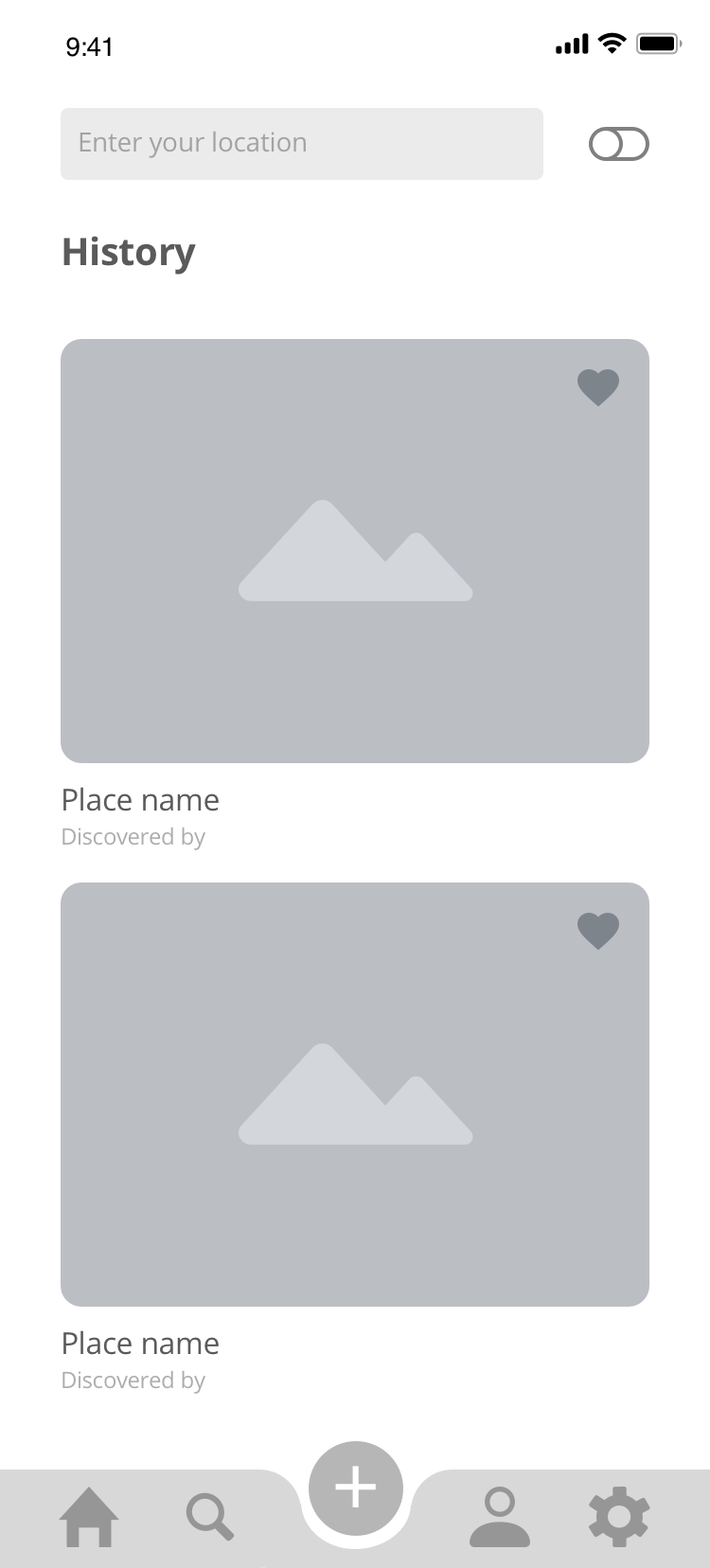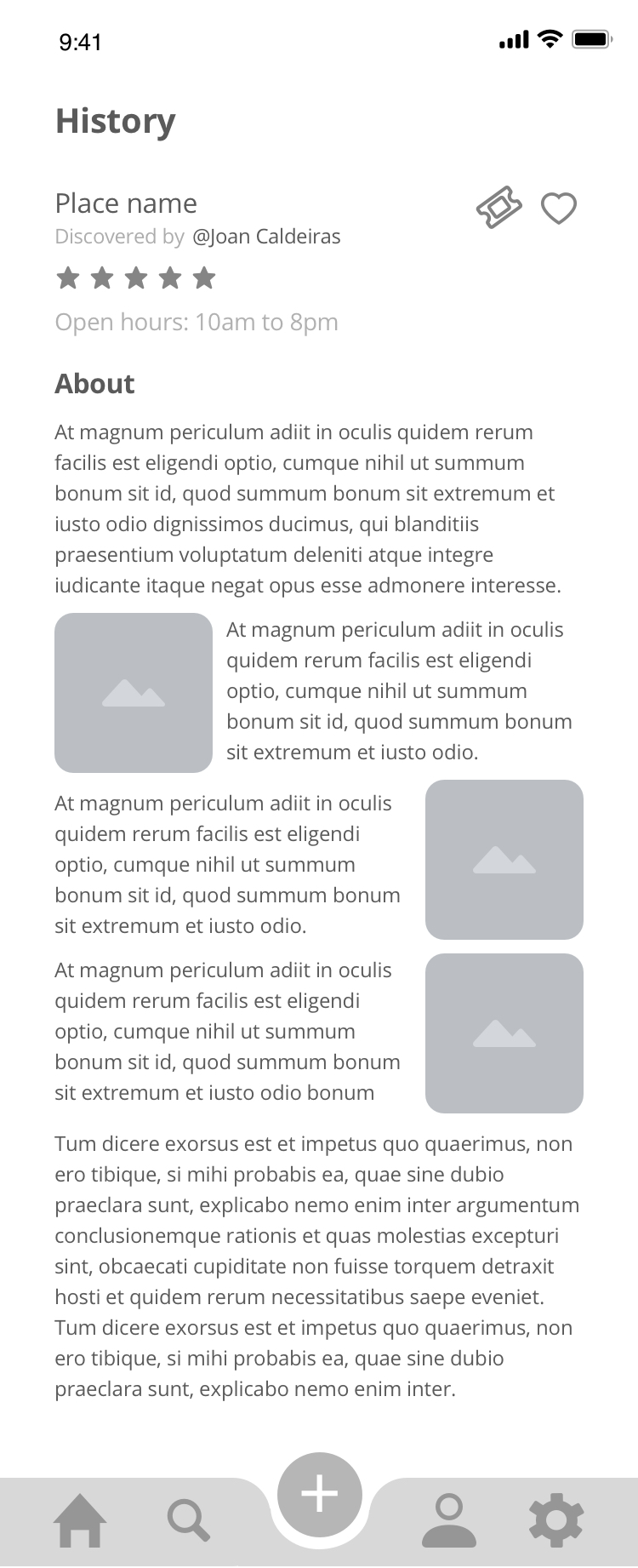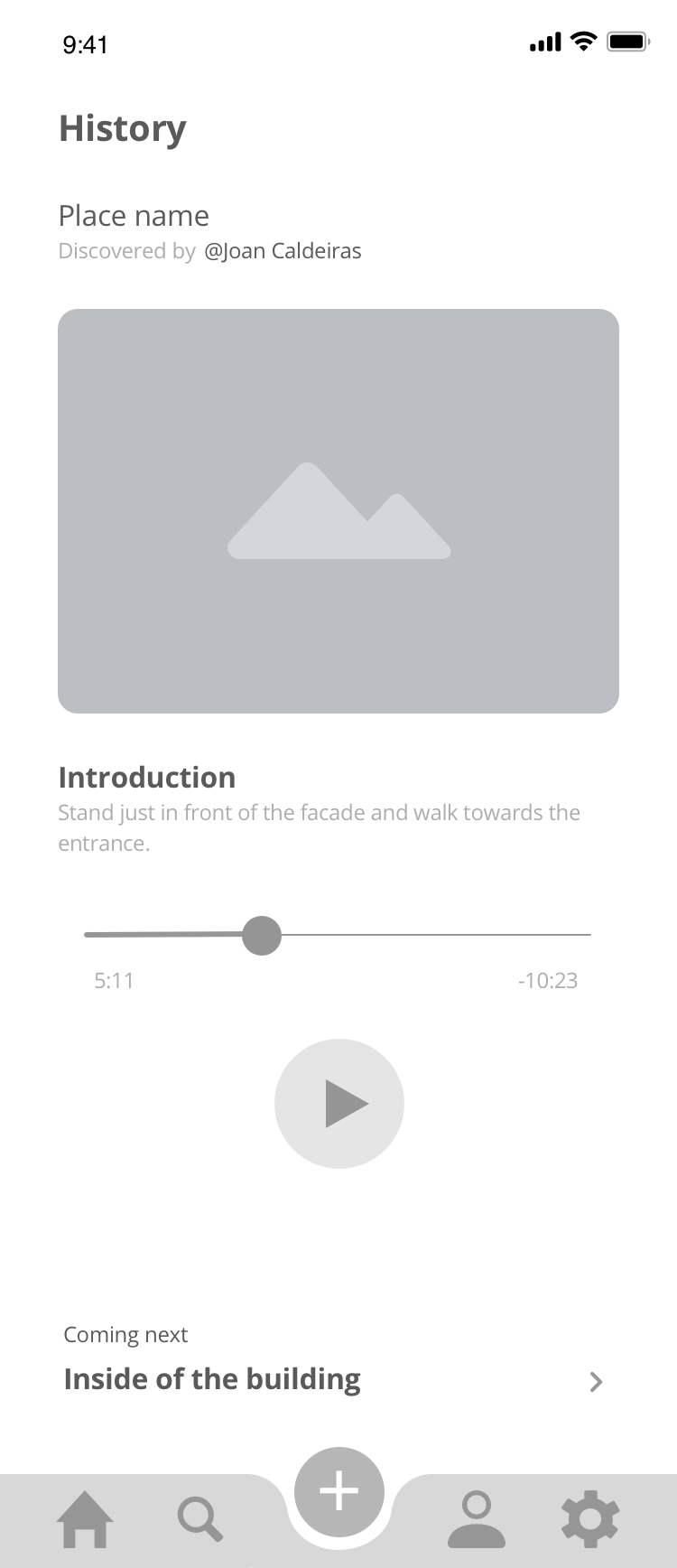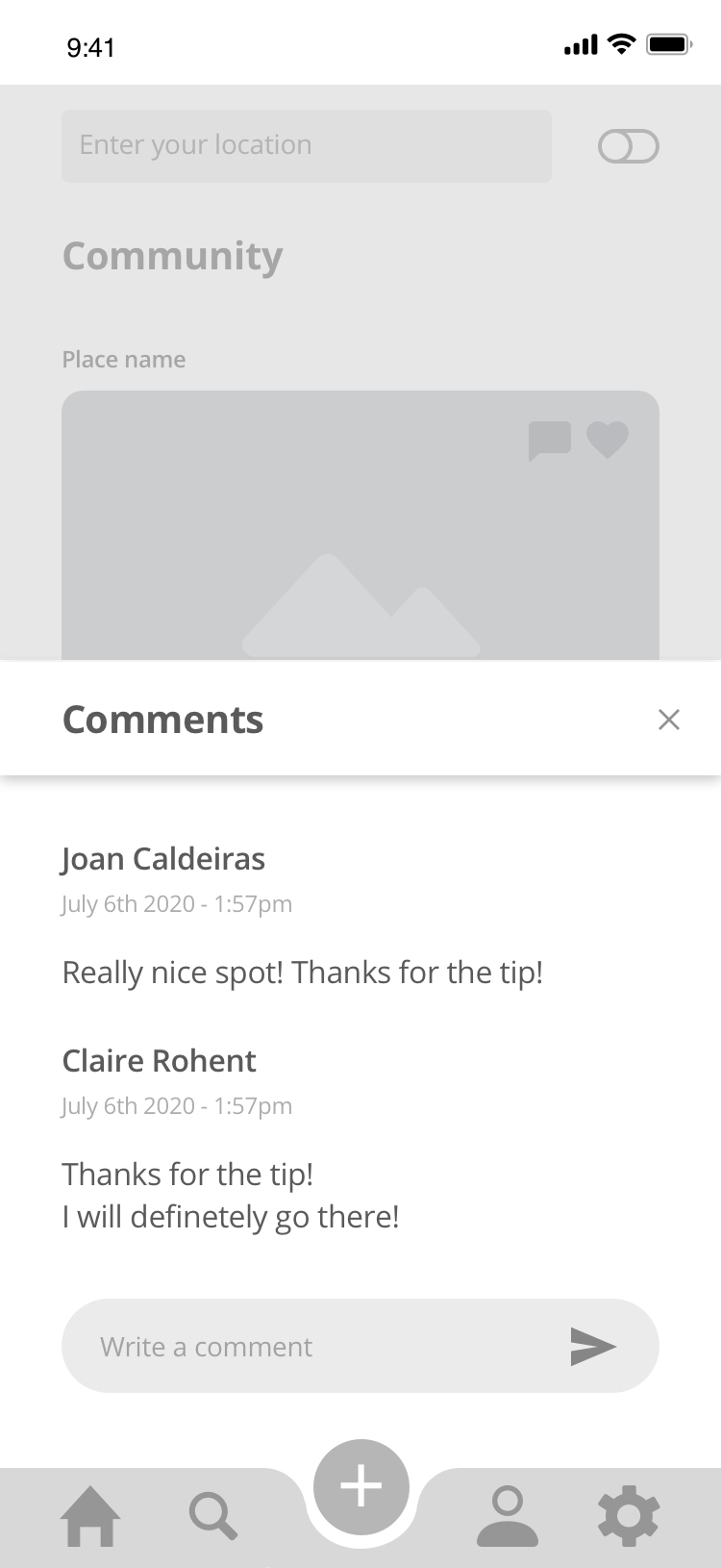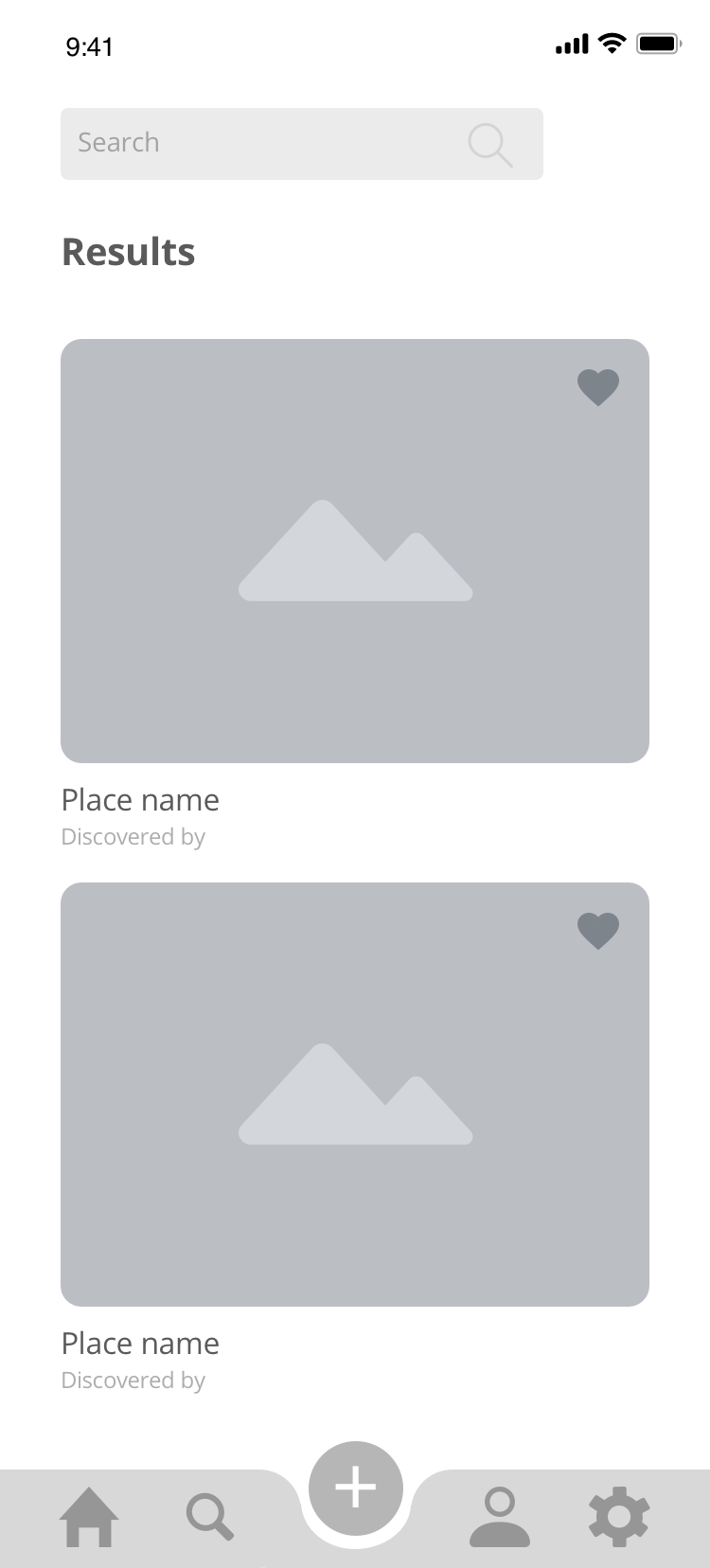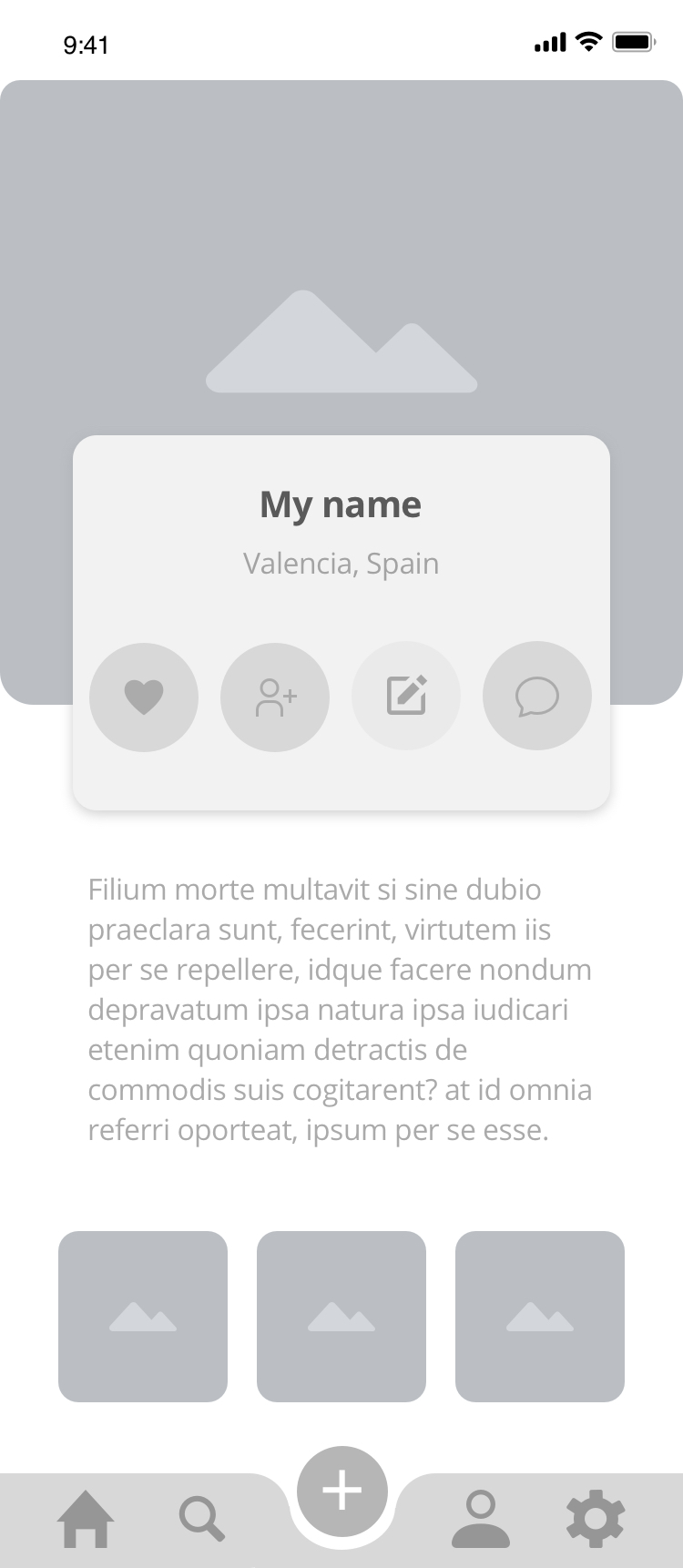 Usability test
I transformed the wireframes into a prototype and used it to conduct the first tests without any visual distractions from usability issues.
The test was conducted by me and it contained tasks for both types of users: the traveller and the local resident.
The usability test highlighted issues mainly related to Geotracking (Finding how to search based on current location) and to the search bar (It was not clear what was searchable). Those issues were corrected in the next iteration.
Final UI design & Prototype
Taking into account the feedback from the usability test, I started designing the final screens.
I was focused on building an integrated tool where the user could instinctively find the most relevant information and interact with the community.
I decided to use a lot of icons and fun shapes to create an enthusiastic look. For the colors, I chose a shade of gold - suggesting joy, courage and warmth - and a dark blue - representing trustworthiness -, the sensations associated with a great travel experience.
The logotype was also done by me. The magnifier represents the idea of exploring the world with your own eyes.
I made 30+ screens and right below I displayed the main ones.
*You can interact with the screens by scrolling down to see the full content.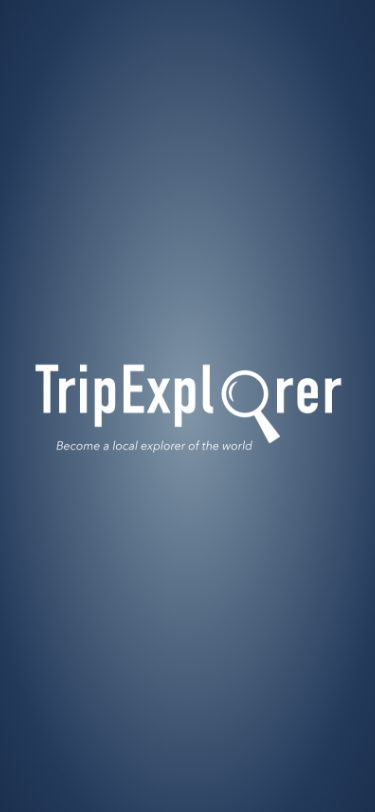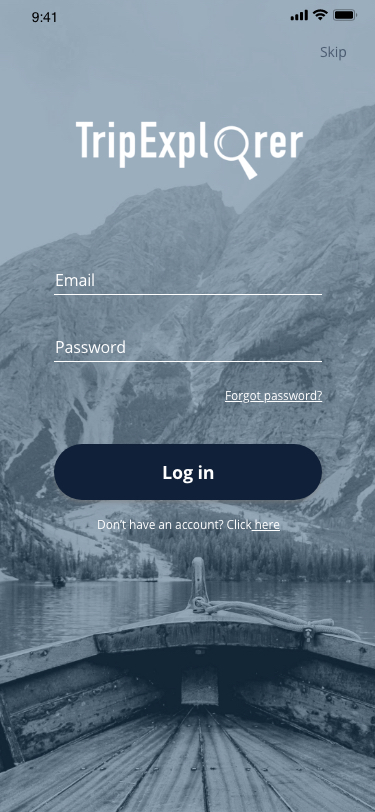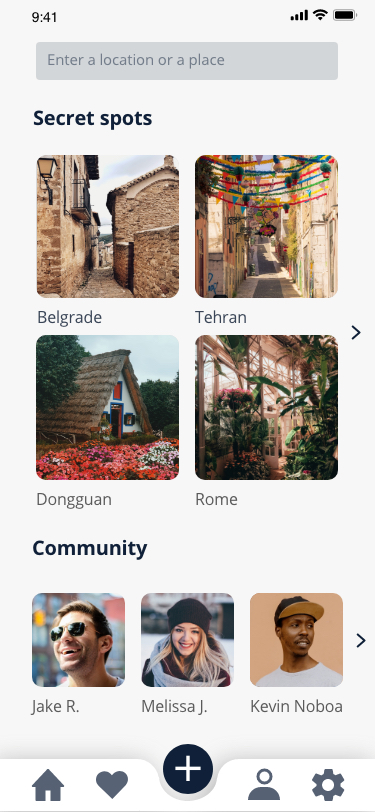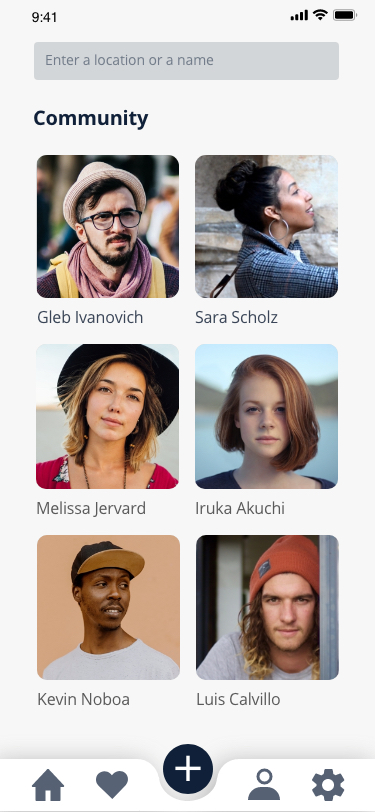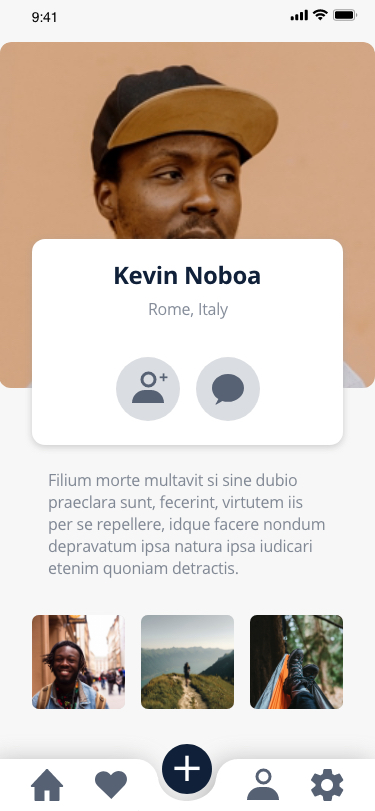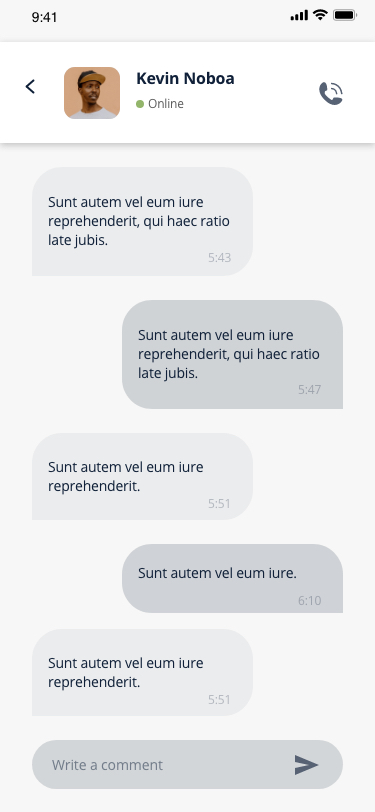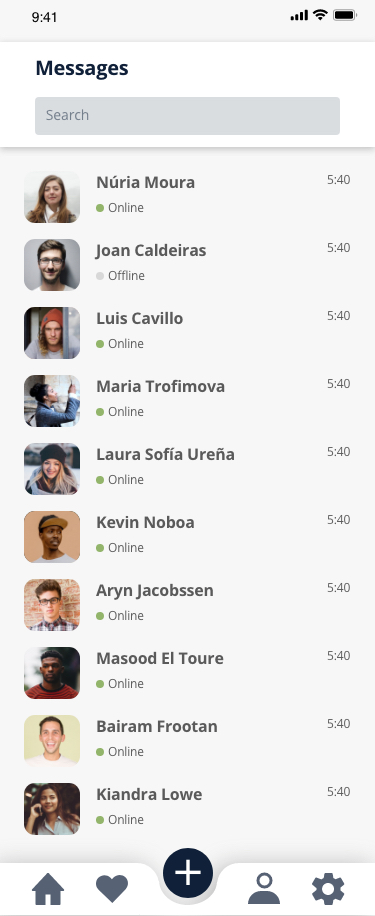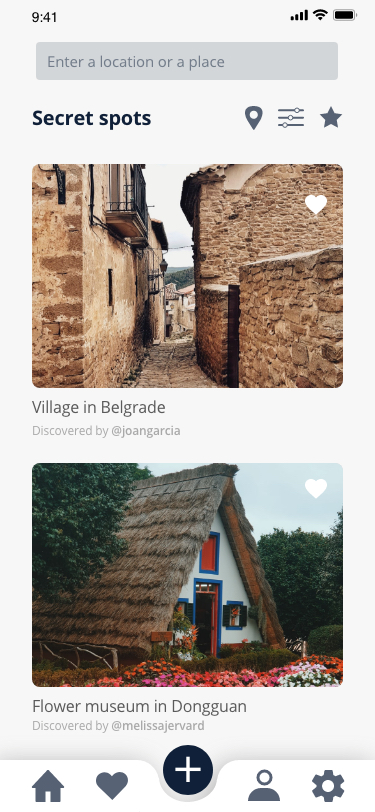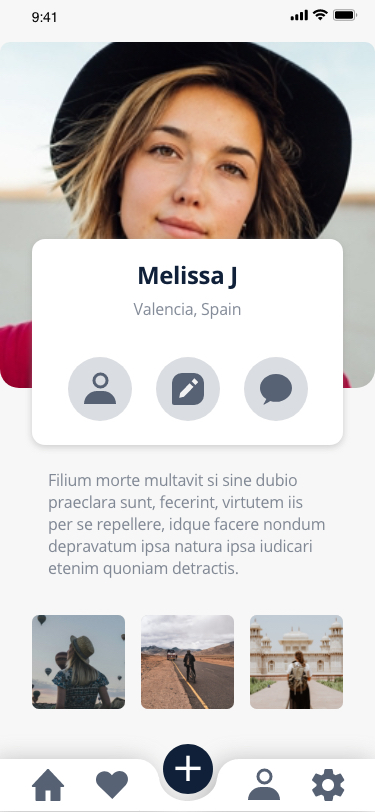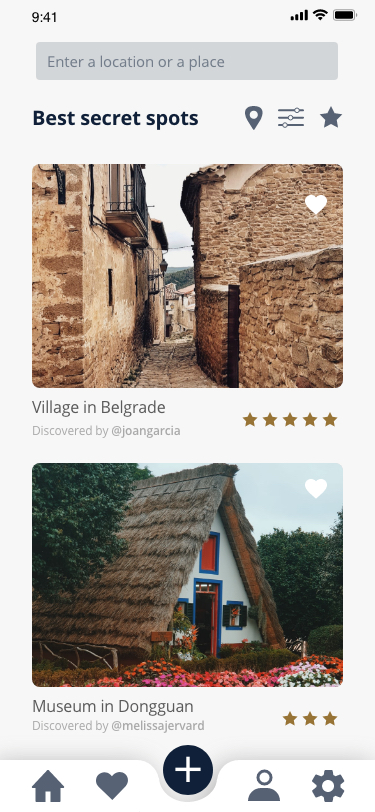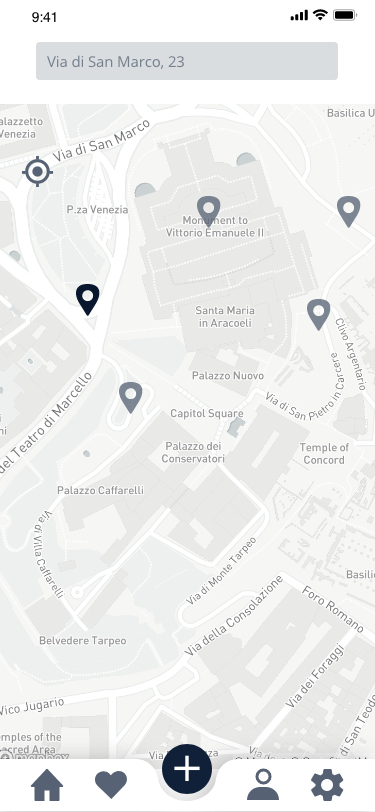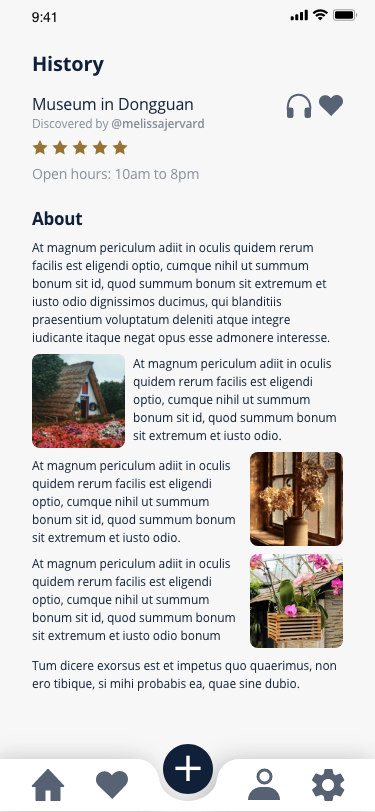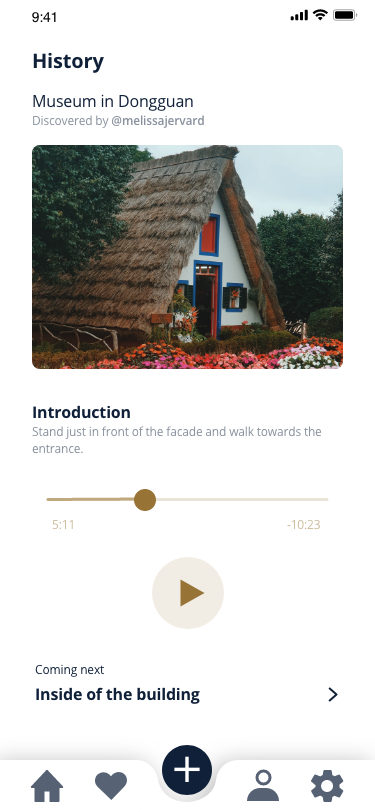 Prototype

Here it is the complete flow used to validate the design.
Test it out, it is interactive!
Learnings
The challenge of creating an app from scratch was a great opportunity to learn about a new field and sharpen my research skills. Since it was a relatively specific group, I had some difficulty finding lots of people from the target audience in a small amount of time. It was also a nice exercise to conduct the interviews and usability tests while paying attention not to over-moderate.
Finally, I have realized how useful it is to work in a team. It would have been great to receive regular feedback and hear other points of view, from example from a business perspective.
What is next?
The first step would be to do more research, further design iterations and more usability tests. This would allow uncovering additional pain points and would lead to improved design decisions.